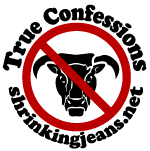 Another edition of True Confessions, yikes. Well actually I think I did pretty well this last week. I have worked hard and really tried to make good decisions. Except
1. Brownies, I had a huge craving and gave in and made brownies, yummy walnut chocolate brownies. I ate three.....in one day.
2. I did not want to train for my 5k yesterday, I made every excuse in the world. I did it anyways, but I didn't want to, and I walked a little more than the plan I am following calls for.
3. I only did a quick 10 minutes on the elliptical on Sunday, that is also the day of the brownies.
Otherwise I think I did pretty good this week. I drank all my water and got in some really tough work outs. Lets see tomorrow how the brownies affect the
bottom
line.