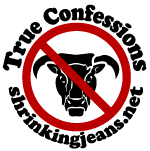 This is my first time confessing so bear with me.......
1. I ate mashed potatoes with cheese twice for dinner this weekend. Nothing else just potatoes and cheese. My gosh that can't be good.
2. I didn't ride my bike at all yesterday, but I did mow 2 acres of grass.
3. I got really really crabby both Saturday and Sunday nights when I got tired and should have gone to bed.
4. I lied to my husband Sunday night and told him I was just going to the bathroom and then snuck out to the couch to sleep, cause he was snoring so loudly. He found me.
I guess that is all I did rotten that I need to confess, oh wait one more.
5. I ate 3 pieces of cherry coffee cake on Sunday, and it was awesome.