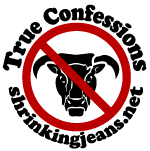 Ok, confession time. It has been a tough week, and that is an understatement. Well here goes........
1. Graduation open house cake tastes way better than wedding cake, especially when it has blue frosting on it that turns everything it comes in contact with
blue
. NICE.
2. I am scared of running a 5k. Actually I fear getting to the point where I run 1/2 mile at one time. I am scared because to me that seems huge. I think I am secretly sabotaging myself and letting this fear keep me from training.
3. I cried at work. I am completely frustrated with things at work, but I am afraid to change occupations.
The stress in my life right now is starting to get a little overwhelming, but I am trying to take things one day at a time. One little task at a time. I know that I am just tired right now and getting ready for my vacation next week is a ton of work! WHEW, one breathe at a time right?!?!
Check out the other
sisters
confessions.